PLEASE NOTE
Unlike CHIEF, CDS does not allow you to change your payment method after your declaration has been submitted. For this reason, your Deferment account or CDS Cash account must be topped up.
The UK Government is slowly phasing out their existing customs platform, CHIEF.
Used to record the movement of goods, the platform will be phased out so that the government can instead use a single UK customs platform – the Customs Declaration Service (CDS).
But how are these changes going to work, and why are they necessary?
Let's find out.
What is CHIEF?
The CHIEF (Customs Handling of Import and Export Freight) system is the computer system of the United Kingdom's revenue and customs services, HMRC.
The system, which is around 30 years old, enables importers and exporters to declare their customs information using paper-based rules in a free text format of 68 multi-use boxes.
What is CDS?
The new Customs Declaration Service (CDS) is a flexible, modern system which uses data processing rules and Union Customs Code (UCC) rather than Community Customs Code (CCC).
91 single use data elements need to be completed rather than the 68 multi-use paper form boxes.
As such, the CDS system is more complex than CHIEF. That's why at CustomsLink, we're already taking steps to ensure that this doesn't affect our customers.
Why is this happening?
In the aftermath of Brexit, customs has become much more complicated.
The UK Government's target is to provide a more secure and stable platform with bigger capacity and possibility to grow. HMRC's aim is to have the worlds most effective customs declaration system by 2025.
How will this change the way we do customs?
In replacing CHIEF, the government hopes to create a more streamlined platform through which businesses and customs agents can make customs declarations.
According to the UK Gov, this will occur in two phases:
Phase One: Since the 30th of September 2022, it is no longer possible to make import declarations through CHIEF.
Phase Two: From the 1st December 2023, it will no longer be possible to make export declarations through CHIEF.
After Phase Two, the Customs Declaration Service will be the UK's single customs platform, through which businesses will declare their imported and exported goods from the 1st December 2023.
The good news is that businesses may not be directly impacted by these changes.
How is CustomsLink getting ready for it?
While the CDS system brings many advantages, it is also more complicated in that it requires a significantly higher number of data elements than CHIEF.
The CustomsLink team are using this period of transition to learn and innovate our platform, so that as each phase of CHIEF is replaced, we will be ready to support our customers just as efficiently.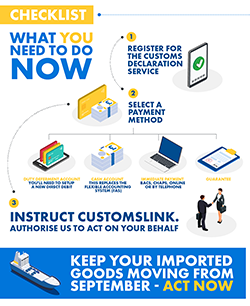 At CustomsLink, we can sort out your customs declaration for you, saving you time, money and stress.
To see how we can help you with your customs paperwork, get in touch with one of our experts today.